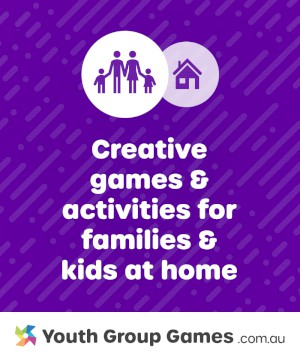 Fun Family Games and Activities To Play At Home
A collection of activities and games for families in house lockdown, self-isolation or self-quarantine during the coronavirus pandemic.
So you're at home with your family in self-isolation or quarantine - it's time to make the most of the opportunity and have some fun!
Just mentioning being stuck in self-isolation indoors in your apartment or house could bring on thoughts of boredom and your whole family going stir-crazy. But we'd like to suggest that there are a stack of great ideas that you could initiate with your family to make some great memories together amidst the trying times.
Quick Inspiration
Play board games (have a tournament)
Movies and tv shows binging
Make a scavenger hunt
Do a puzzle together
Create your own board game
Play charades or pictionary
Keep the balloon up
Play hide and seek
Crafting activities
Make playdough
Build an obstacle course
Put on a play
Build forts and have a pillow fight
Dance parties
Make cards
Spin the Wheel
At the start of the day, create a large spinning wheel (maybe modify the one from twister?) with a selection of activities, tasks and rewards written on it. Then your kids can spin the wheel to find out what activity they're doing next. While it may throw out any sense of routine, it'll keep things interesting and exciting, even if the activities and tasks aren't. It helps to keep it varied - make sure you have a selection of productive tasks, educational activities, quiet time sessions, relaxing activities, silly games and fun rewards.
These interesting conversation starters might help get your family talking to one another and discovering new things and aspects to each others' personalities.
This is a great one for when you have nothing else left to do but scream... so make a game out of it that will allow your kids and you to get all your screaming out in a fun and crazy way!
A unique and fun twist on the classic game of pictionary - try doing it with your feet instead!
This is a really easy game to play and learn, and it's great to play with a small number of people. Perfect for teenagers rather than younger kids, Ultimate Ninja can be played indoors or outdoors and requires no extra equipment. Give it go!
A word play detective game that will get everyones' brains working hard to figure out the answer.
Youth Group Games has a massive collection of messy food games. Kids love a good food challenge and getting messy. Although maybe make sure you don't use up all the food you might have stockpiled to see you through the quarantine period.
---